#GIVINGTUESDAY - Give Back to Help The Vets of VET VOICES! • TUES NOV 27, 2018!
This #GivingTuesday, TheatreWorks Florida and TheatreCares will be fundraising for the incredible military veterans of 'Vet Voices'!
Our goal is $5000
and every dollar raised will be put towards the program to provide even more outstanding production quality, assist in transportation to and from workshops and (drumroll please…) take their Final Presentation to the
Orlando Fringe Theatre Festival
in May 2019!
Even more exciting news, in honor of #GivingTuesday, Facebook and PayPal will be MATCHING a total of up to $7 million in donations received through Facebook. Donations can be matched $50K per nonprofit. Join us in enriching the lives of the veterans of 'Vet Voices' by considering a donation through Facebook on Nov 27, 2018.
These amazing military vets, their families and caregivers have already experienced the power of community, self-discovery and self-awareness through 15 weeks of theatre arts workshops and presented their 1st Highlights Presentation to the public on Sept 15, 2018, seen here in a Highlights Presentation playlist (produced by PGTV in Polk County, FL):
VIEW HERE.
Now… they are ready to begin their journey to a fully realized stage presentation that revolves around their actual lives in the military, told through story-based monologues, dramatic scenes, poetry, and music.
Stay tuned for more information as we move excitedly towards #GivingTuesday on Nov 27, 2018! In the meantime,
LIKE
us on facebook to get ready to donate:
LIKE US HERE.
---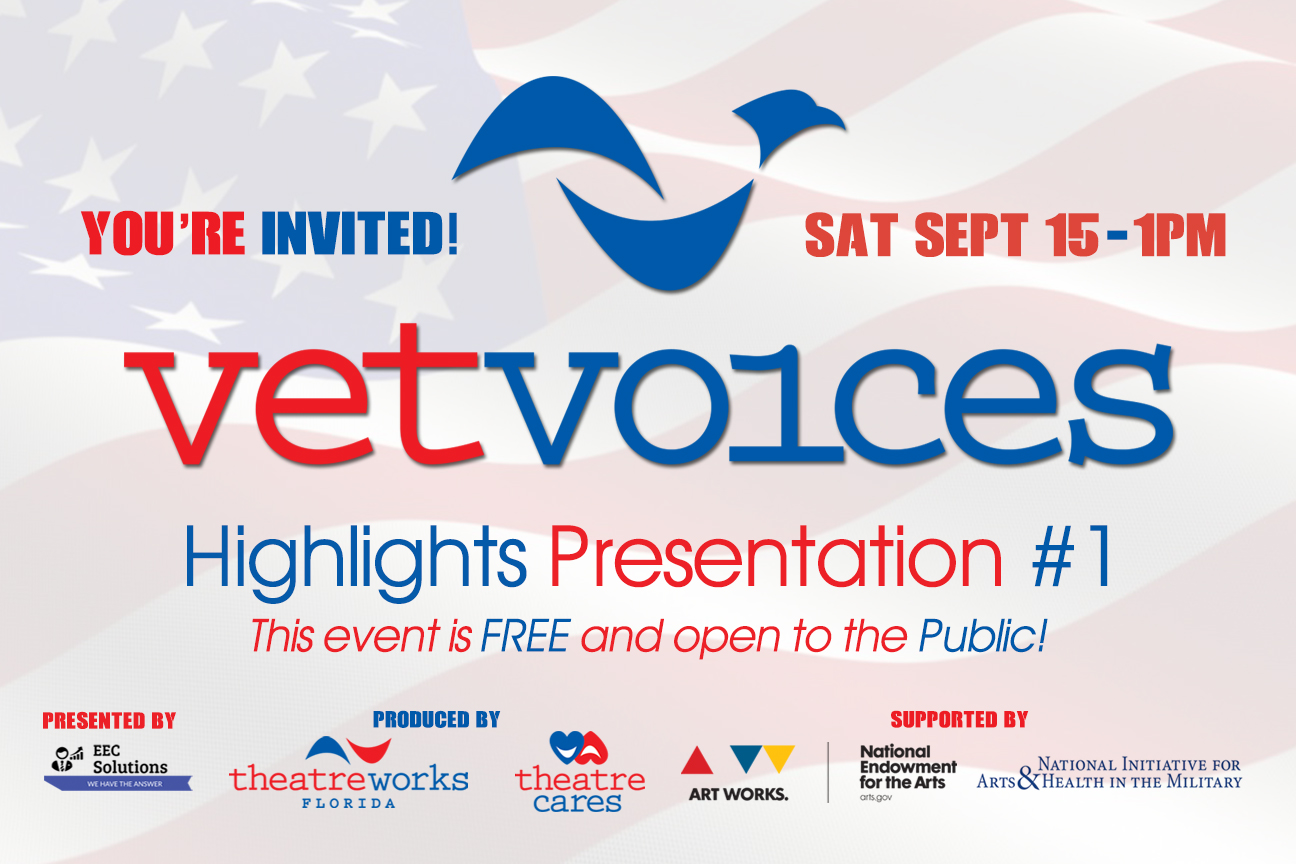 VET VOICES: 1ST HIGHLIGHLIGHTS PRESENTATION • SAT SEPT 15, 2018; 1PM

FREE & OPEN TO THE PUBLIC!
TheatreWorks Florida and the veterans of
"Vet Voices"
proudly invite you to a
FREE
public presentation of inspirational theatrical work created entirely by the vets themselves during their first 10-week session of workshops. Come share stories of the men and women who protect our country every day in an impromptu studio setting.
Support… Connect… Engage.
DATE/TIME:
SAT SEPT 15 • 1PM
LOCATION:
TheatreWorks Florida Studio, 8 W. Palmetto St., Davenport, FL 33837
PARKING:
&nbsp&nbsp
View
&nbsp&nbsp&nbsp|&nbsp&nbsp&nbsp
Download
TICKETS:
FREE
LENGTH:
35 Minutes
Please support the incredible veterans of
Vet Voices
as they share their military experiences in an eye-opening theatrical forum. This event is open to the Public and we encourage families to attend.
Supported in part by: National Endowment for The Arts, National Initiative for Arts & Health in the Military and NEA Creative Forces.
Questions to Mark Graham:
vetvoices@theatreworksfl.org
or
203.952.8760.